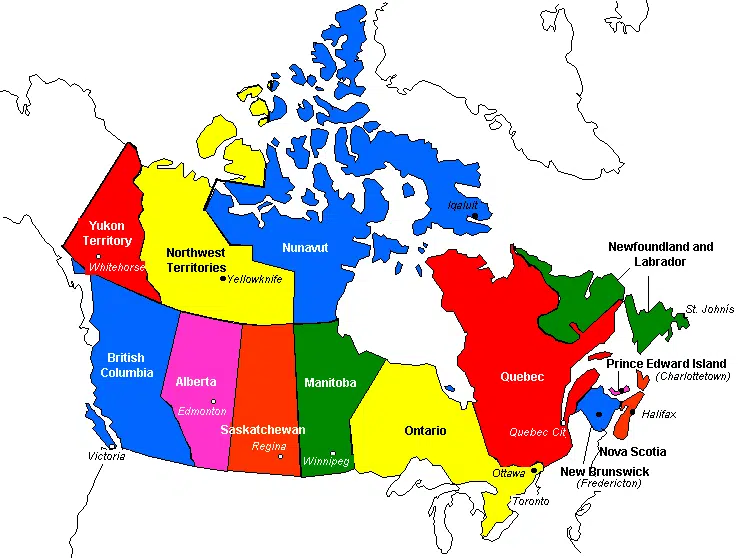 Canada is completely different from coast to coast. That's part of what makes us so awesome.
Writer Anne Thériault (@anne_theriault) highlights the differences as she describes each province by personality type:
Since we here, let's start with 'Berta:
ALBERTA – aggro – grew up playing hockey – brags about how much they spend – secretly sensitive and insecure – a sucker for beauty – just wants to be taken seriously – keeps a burn book about the other provinces – actually very kind when you get to know them
BRITISH COLUMBIA – too beautiful for this world – wears makeup that makes them look like they're not wearing makeup – "beachy waves" – somehow makes a dirty old t-shirt and shorts look adventurous & sexy – extremely enviable instagram – claims to have invented juicing
SASKATCHEWAN – tired of your "flat" jokes – steady AF – weirdly mystical side – has a great sense of humour but you miss half their jokes because they're always talking under their breath – got made fun of in middle school for their lunch – cries at beautiful sunsets
MANITOBA – classic middle child – stormy when provoked – a movie scene where a girl takes off her glasses and holy sh*t she's a babe? What??? – smokes pot under the bleachers – refused to attend graduation – comes over to see you, but ends up hanging out with your mom
ONTARIO – bit of a fussbudget – peaked in high school – hates emotions – says "they're just jealous" a lot – doesn't understand that the best parts about them are the parts they hate the most – actually pretty fun, once they stop being so self-conscious
QUEBEC – BiG fEeLiNgS – world-class grudges – eUrOpEaN – your hate only makes them stronger – loves cooking while high – ~gallic shrug~ – good eyebrows – questionable in every sense of the word – love/hate relationship with god
NEW BRUNSWICK – tired of living in the shadows – wtf – how it is quiz night at the pub – and you just got asked – what the only officially bilingual province is – AND YOU SAID QUEBEC – quietly plotting your murder – it will be a watery grave
PRINCE EDWARD ISLAND – smol but fierce – genuinely nice??? – never packs a jacket and wants to know if they can borrow yours – eyes narrow slightly every time you mention Anne of Green Gables – will take your tourist dollars, tho – oh you also have to to pay to leave – $$$
NOVA SCOTIA – gruff but sensitive – chainsmoking their feelings away – will give you the literal shirt off their back – *inhaled affirmative* – throws the best parties – will reminisce your ear off – boys oh boys – SCREW THE CLOCK TOWER – what a friggin sin
NEWFOUNDLAND AND LABRADOR – "ask me about 1949" – straddles time zones and cultures – weirdly does not want to hear your Newfie joke?? – actually more progressive than you think – bakes the best scones.
#TRUTH hahahaha